About Us…. Deans Place welcomes you. Deans Place was established here in Las Vegas on September 8, 2008. Our family owned business is proud of our 24/7 excellent selection of Italian food, gambling, banquet and party capabilities, and especially our friendly staff. If you have not had the pleasure of visiting Deans Place, stop by today. You will be highly surprised to see granite counter tops, oak furniture and accessories, a truly upscale local resident with a comfortable atmosphere you can easily call home.
Deans Place is home of regular jackpots from our 20 slot machines. We also have contests, and a very fair Players Club Program. We also offer 4 dining areas, two fully stocked bars (one non smoking bar area), indoor and outdoor seating. For you sports fans, we have many televisions to cover most every major sporting event in USA. Even before COVID we were praised for our cleanliness. We have increased sanitizing safety methods. We respect our clients and employees safety.
Deans Place Slot Machines 24/7
Deans Place Food 24/7
Outstanding events from our weekly Wednesday Night Rib Dinner is just a small part of the numerous holidays throughout the year with special celebrations. Be sure to come by Monday nights for our two progressive contests.
Deans Place is located at 8355 Dean Martin Drive, Las Vegas, NV 89139. We are easy to find as we are across from the Silverton Casino, Cracker Barrel, Brass Pro Shops, Hyatt Place, only 1/4 mile from the intersection of I-15 and Blue Diamond Road. Deans Place is only 4+ miles from the heart of the Las Vegas Strip area.
If you want 24 hour breakfast, an excellent selection of Italian and American food, awesome pizza, daily soup specials, daily main course specials, and dozens of other mouth watering food items listed on the menu all with very reasonably priced, Deans Place is for you. Yes, we have gluten free pizza also.
It would be hard to pick out the one best item customers rave the most about from our 24 hour menu. Maybe the Chicken Parmesan, or Eggplant Parmesan. Maybe it is the Chicken Marsala, the endless Ribs, the hand made Pizzas, or the great priced other menu items. You tell us what you like the most. We want to hear from you which is your favorite.
Deans Place Take Out Food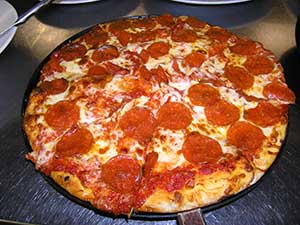 Whether you are a local Las Vegas resident, visitor, tourist, conventioneer or just lost, we can feed you and make your stay at Deans Place memorable. A friendly atmosphere for individuals or groups. Who knows what famous person you might see as a customer, Deans Place is a great escape location for many people to enjoy. Often, Deans Place is referred to as the hidden gem in Las Vegas. Try us once, you will be a regular.
For the alcohol drinking crowd, our prices are very conservative and a wide array of selection of spirits to choose from, 24 hours a day.
Our friendly staff is excited about your next visit to Deans Place. Come in, have a drink, sample our great food, try your luck in one of our 20 slot / video poker / video keno machines, or just say hi, 24/7.
Thank you for reading About Us Deans Place, have a great day.