Gaming at Deans Place is really two locations within one roof. Allow me to explain. There are two separate companies, with two separate front doors which make up the Deans Place building. As you enter the main front door, you are going to walk directly into an area which has a huge bar, multiple dining tables and within this bar is 15 slot machines for your enjoyment. This large bar area is a smoking (cigarette only) area.
Additionally, as you walk through the main front door, should you take the hallway to the right, this takes you into another area which has 5 slot machines within a full long bar and several dining tables. This section is 100% NON smoking.
All together there are 20 machines to tempt your gambling skills. Since there are as of July 2020, 1,140,743 slot gaming machines in casinos worldwide and approximately 200,000 in Las Vegas, we really offer you many reasons to make Deans Place your home to gamble.
Visit Deans Place, start the rewards, free contests, free play and start winning . . .
Just like Las Vegas, something is always changing, so is the number of games on any slot machine. There are always new games being invented for people to enjoy. We proudly keep up with the most popular games on our slot machines and hopefully you will enjoy the selection.
Below are a few of the highlights of our customers winning. Come to Deans Place and maybe you can be the next winner.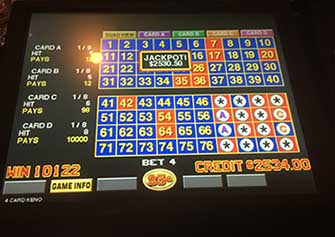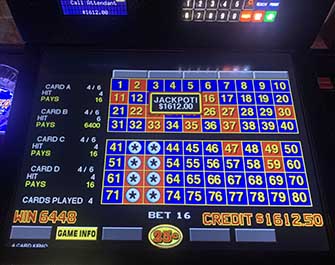 Deans Place 24/7 Slot Machine Games Available & More. . .
Below are some of the current slot machine games available throughout the 20 slot machines we have to offer you. New slot machine games are always being offered.
• Atomic Fever Poker
• Dice Fever Poker
• Pick-A-Pair Poker
• Royal Deal Poker
• Ace & Deuce Bonus Poker
• Bonus Poker
• Bonus Poker Deluxe
• Deuces Super Bonus Poker
• Deuces Wild Joker Poker
• Deuces Wild Poker
• Double Bonus Poker
• Double Bonus Poker Plus
• Double Double Aces & Faces Poker
• Double Double Bonus Poker
• Fast Fours Poker
• Red/Black Double Double Bonus Poker
• Straight Flush Deluxe Poker
• Blackjack (single deck)
• Black Rhino Video Slots
• Double Bucks Video Slots
• Super 8 Race Video Slots (9 reels)
• Texas Tea Video Slots (3 reels, 15 paylines)
• 246 Way Keno
• 369 Way Keno
• 4 Card Keno
• Caveman Keno (single card)
• Cleopatra Keno (single card)
• Cleopatra® Keno (4 card)
• Extra Draw Keno
• Multi-Card Keno
• Power Keno® (4 card)
• Super Keno
• Super Way Keno
• Triple Power Keno